Tray Dryers
MODEL : 12 TRAY / 24 TRAY / 48 TRAY / 96 TRAY
Application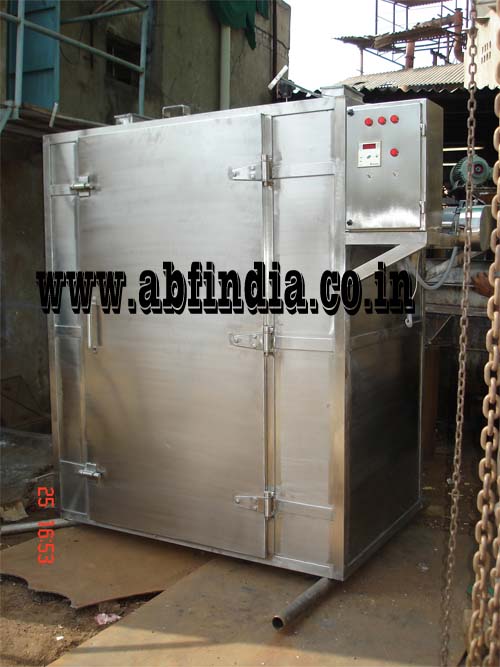 Tray DryersTray Dryer are used for the best drying results in conventional process. Drying oven is specially designed for Bulk Drug, Pharmaceuticals, Chemicals, Food, Paints, Textiles & other industries. It is well accepted for economical drying of powder, granules, food material & chemicals.

Construction
Drying oven is fabricated out of rigid angle iron frame with double walled panels insulated with best quality compressed fiber glass and with a rigid door fitted with strong hinges and best chosen locking arrangement. A control panel is fixed in front of the oven to facilitate the operation. It is manufactured from SS304, SS316 or SS 316L (As per customer requirement) in GMP/CGMP Model & polished to the mirror finish in the inside & matt finish on the outside. It has a large working space and is available, manufactured from mild steel & in good finishing outside with synthetic enamel colour & inside painted with heat resistant paint to resist temperature up to 300 degree, in Standard Model.

Description
The drying ovens are normally available with choice of heating mode, as electrically heated / steam heated & thermal fluid heated. In electrically heated model, digital temperature controller is provided with digital timer to facilitate working day and night. In steam & thermal fluid heated model, digital temperature indicator is provided with digital timer, but the temperature controller is not supplied with the machine.

Air Circulation
A highly effective recirculating air system is provided. The heated air, is recirculated with fresh air in selected proportions for optimum drying. The system is designed so that the materials at the top & the bottom dry simultaneously.
Uniform air circulation, controlled temperature, sturdy construction and large working space are the valuables of the oven which is suitably designed to cover wide temperature range, loading and unloading is faster and simple. In higher capacities trays trolley rolls in and out of the chamber. For continuous operation a spare trolley can be had for loading while the drying cycle is taking place.

Controlled Temperature & Time
Digital temperature controller with digital timer is supplied to facilitate working day and night.
Option : Flame proof fittings, motor-FLP/NFLP and Trays - SS304/SS316
Body Construction : External: 1.2mm/1.6mm/2mm Thk, Internal: 1.2mm/1.6mm/2mm Thk, MOC:CGMP
Surface Finish : External : Buffed to 150 grit matt finish INTERNAL: Buffed to 220 grit mirror finish
Inlet & Outlet : All dryers have a 5 micron pre filter at the inlet and a manually infinite adjustable damper at the outlet.
Door : Door provided at the front side of the dryer. Door lips are lined with silicon rubber gasket to prevent any leakages. Suitable locking is provided for the doors.
Air Circulation : Air circulation is done by specially designed recirculation blowers inside the dryer. The blower capacity, static & design depends on the size and model of dryer
Heating : Dryers are normally supplied with either steam/ electric/ thermo fluid / hot water heating system. Suitable heating coils / caloriefies are provided in the dryers.
Temperature Control : Temp. control system is done by electronic digital temp controller fitted in the control panel. The temp control in the dryer is fully automatic.
Trays : Trays are available in SS 304/SS316. Trays are buffed to mirror finish. Trays are also available in aluminum / Polypropylene / FRP/ MS galvanized as per client requirements.
Trolley : Trolley is provided in the dryers to accommodate trays in it. Trolley truck is used to load and unload the trays into the dryer.
Control Panel : Automatic Control panel is fitted on the side of the dryer. It consists of Starters, contactors, safety relays, circuit breakers, indicating lamps, push buttons, timers, controllers etc.